School Vaccinations
Please keep the community immunisation team informed of any medical changes, or change to consent about the vaccination/s, using the contact details below:
Email: [email protected] / Tel: 0300 3000 007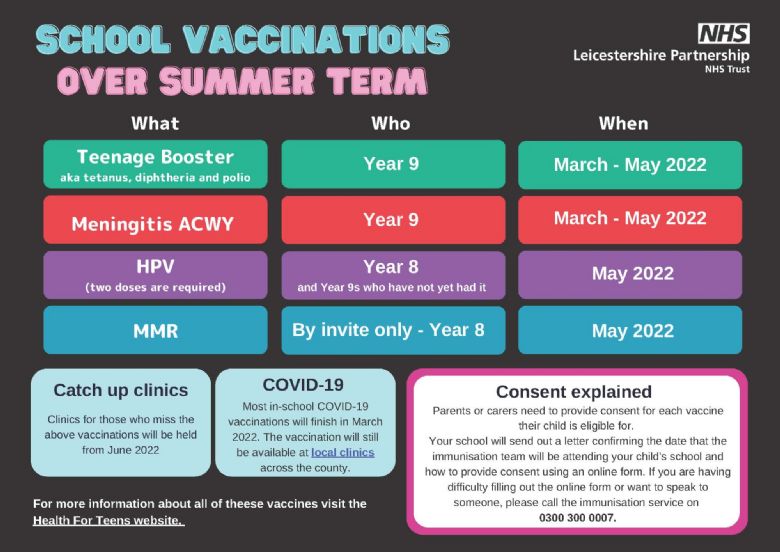 COVID Vaccination Programme for 12 - 15 year olds
We are now able to confirm with you the details for the upcoming COVID-19 vaccination programme taking place across all secondary schools in England, for 12 to 15 year olds.
In summary the guidance tells us the following:
12 to 15 year olds are being offered the vaccine.
Consent will be sought by the SAIS (School Age Immunisation Service) provider from the parent or person with parental responsibility in the same way as for any other school vaccination programme.
Children who are 12 years old and over on the day the SAIS team visits the school, will be offered a vaccination as part of the in-school vaccination programme.
Significantly, the SAIS will be the primary provider of the vaccination programme for healthy 12 to 15 year olds and will be legally responsible for the delivery of the vaccine. Legal accountability for offering COVID-19 vaccines to children and young people sits with the SAIS and not with the school.
Vaccines will be administered by healthcare staff working closely with the school and following the usual approach to school-based immunisation.
The SAIS provider will be contractually responsible for the service, as they are for other school vaccination programmes.
John Ferneley College will be offering 12 to 15 year olds a vaccination session on Monday 7th and Tuesday 8th March 2022 for either the 1st or 2nd vaccination. Please find an NHS information letter and online consent form below for parents/guardians to read and action consent.
The vaccine will NOT be offered at school to any young person without parent/guardian consent. You will need to consent again for the second dose of the vaccine.
TEENAGE BOOSTER AND meningitis VACCINATION - YEAR 9 - Monday 28th March 2022
As part of the national vaccination programme, Leicestershire Partnership NHS Trust's Community Immunisation Service would like to offer to all young people in school Year 9 the Teenage Booster and Meningitis vaccination in school.
The vaccinations will be taking place on Monday 28th March 2022. Please find an NHS information letter and online consent form below for parents/guardians to read and action consent.
Please note:
Only students whose parent/guardian have sent consent for will receive the vaccination.
You can not give consent via the school, only by completing the online form.
Consent needs to be completed electronically by Monday 21st March 2022.
The school code (required to complete the consent process) is: LE137617
Should you have any questions or wish to discuss any additional support that may be required during the vaccination, you can contact the NHS Immunisation team by telephone: 0300 300 0007, or by email on [email protected].