National Apprenticeship Week 4th – 8th March 2019 ​​​​​​​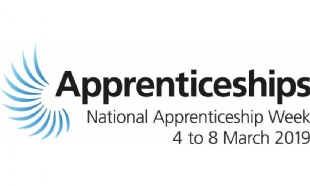 This week (4th – 8th March) is National Apprenticeship Week! National Apprenticeship Week provides a fantastic opportunity to help students to think about their future careers and to raise awareness of the different options available after school, including apprenticeships.
The theme for the 12th annual National Apprenticeship Week is "Blaze a Trail". Through this year's theme, we want to showcase and celebrate how apprentices bring new energy and passion into organisations.
Apprenticeships and Skills Minister Anne Milton said:
"Blazing a trail is what being an apprentice is all about and will be our theme for National Apprenticeship Week 2019. Because that's what's happening up and down the country – apprentices and employers blazing a trail.

I want everyone to recognise the change that apprenticeships can bring - for employers blazing a trail to new markets, apprentices to new career opportunities and for colleges and training providers raising the skills levels for everyone."
There is a wide range of apprenticeships to choose from. You can do an apprenticeship in everything from accountancy, fashion, law to nursing, plumbing, and teaching.
Find out about all the fantastic apprenticeships on offer this National Apprenticeship Week by visiting https://www.apprenticeships.gov.uk/
John Ferneley College is also hosting an Apprenticeship Workshop for Year 10 and 11 students. The event will take place on Wednesday 6th March from 3:30 - 4:30 pm in the Auditorium. Parents are also welcome to join!
Below is also some more useful information for Parents'.