International Women's day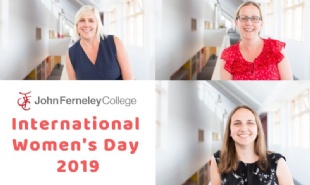 Today marks the day of International Women's Day. The theme for 2019 is #BalanceforBetter which is a call for driving gender balance across the world.
Collective action and shared responsibility for driving a gender-balanced world is key. International Women's Day is a global day celebrating the social, economic, cultural and political achievements of women - while also marking a call to action for accelerating gender balance.
The first International Women's Day occurred in 1911, supported by over one million people. Today, International Women's Day belongs to all groups collectively everywhere.
To celebrate international women's day, We asked some of our teachers what advice they would give to their younger self.
Christine Stansfield
"Don't always believe that everybody is better than you."
Lara Hall
"Never let anyone tell you that you can't achieve your dreams. And if you don't achieve them the first time, get back up and keep going. The fight will make you the person you are. EVERYTHING happens for a reason."
Lucy Neath
"Don't be afraid of trying. If you know that you've done your best, then you can be proud. If you want something enough then you'll find the way to get it. And if all else fails, never underestimate the power of a pop song - sing and dance your way to being happy!"
Lyndsey Meek
"Life is literally a rollercoaster – but always remember that to appreciate the high points you have to experience some lows. In the end, life has a way of working things out for the better even if you can't always see it at the time."
"Life is not a dress rehearsal – always do the things you love and live for the moment!"
Elizabeth Pedder
"Life is too short to care what others think. They aren't living your life, they can't tell you what to do with it, do your own thing and be proud of yourself!"
Hayley Robinson
"Praise yourself as much as you criticize yourself. Your opinion of yourself is just as valid as other people's opinions of you."
Emily Phipp
"Work harder at A-Levels and your degree. The social life will always be there!!
Listen to others' advice but still hold on to your beliefs.
Enjoy every opportunity and experience. You never know what tomorrow may bring!"
Judith Johnson
"There are going to be some setbacks; it's not always going to go to plan. However, it will come good and your perseverance will pay off."