Train with a Pro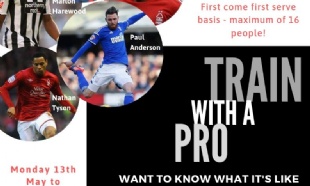 WANT TO KNOW WHAT IT'S LIKE TO EXPERIENCE TRAINING WITH PROFESSIONAL FOOTBALLERS?
Train with a Pro is a unique and rare opportunity to see what it's really like. This is a football-specific fitness session designed to help you achieve a good level of fitness. The sessions are suitable for all abilities and fitness levels.
Sessions start on Monday 13th May. Please see flyer attached below for more details.