CPR TRaining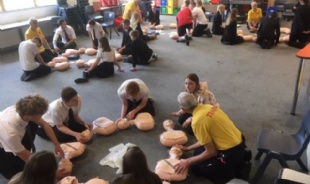 On the 11th and 12th July 2019, Year 10 students at John Ferneley College attended CPR training to learn the life-saving skill. The training was hosted by Heartwize in conjunction with Melton Rotary Club.
Heartwize aims to ensure that every young person passing through education in Leicestershire has training in Basic Life Support. This includes cardiopulmonary resuscitation (CPR) and the use of an Automated External Defibrillator (AED).
John Dehnel, Heartwize co-ordinator, said: "This training is important for students as it trains them to assess what might be wrong and in what order to go through to do everything you can to maintain a stable condition."
He goes on to say: "We hope that by training so many students, there will be more people in the wider community that are able to know what's best to do and save someone's life."
The training covered initial assessment of the problem, actions to take in terms of what to do before and after, CPR and the use of a defibrillator.
This training will undoubtedly save lives as children and young people learn this valuable skill and carry it with them through their lives.