Year 7 Power Reads Trip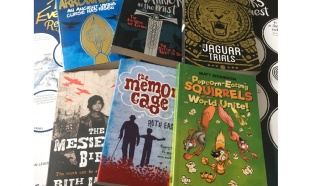 Year 7 had a trip to Beauchamp College, Oadby for the launch across Leicestershire of "Power Reads" - a scheme to encourage reading and promote reading for pleasure.
A group of Year 7 students who have been reading either "The Moonlight Hare" by Ruth Eastham or "Everest with A.J." by Matt Dickinson went to Beauchamp College to meet these famous authors and the illustrator of their books.
The authors shared their stories of where they got their inspiration from and engaged our students with quizzes and interactive activities.
Matt Dickinson showed videos of his trek up Everest and bought in the £1000.00 suit he wore, insisting a teacher try it on - much to the delight of the audience!
The illustrator, Chellie Carroll amazed the children with her 60 second demonstration - creating a mountain scene and sharing how she improvises with homemade tools she uses – made of twigs, toothbrushes and other home utensils!
Some of the highlights for our students were;
listening to Matt Dickinson share his stories about climbing Everest,
seeing an image appear before their eyes when Chellie performed her demonstration of how she creates her illustrations and the props she uses
hearing from the authors about where they get their inspiration for the stories from.
They enjoyed the tasks but would have liked more opportunities to get personally involved.
The students reported they enjoyed the trip, it was fun, inspirational and educational too!
At the end we were presented with a bundle of books for our library written by Ruth and Matt!