South SIDE / A607 Bus SERVICE
We are running a new bus route for students living on the south side of town and along the A607, to and from Thurmaston. Please see timetable below.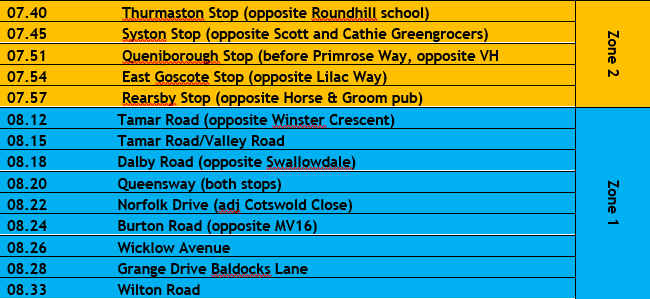 If your child wishes to use this service, they will now need to pre-pay for their journeys. This is done in number of journeys, not as a weekly pass, so that students will only pay for the journey(s) that they use (so if they have an after school club, they will not be charged).
Prices for tickets
You can buy in blocks of 10 journeys (enough for a full week of return journeys) at the following prices:
Zone 1
1 x 10 journey ticket = £13 (equal to £1.30 per journey)
4 x 10 journey tickets = £50 (equal to £1.25 per journey)
10 x 10 journey tickets = £120 (equal to £1.20 per journey)
Zone 2
1 x 10 journey ticket = £23 (equal to £2.30 per journey)
4 x 10 journey tickets = £90 (equal to £2.25 per journey)
10 x 10 journey tickets = £220 (equal to £2.20 per journey)
Please go to your School Gateway account to purchase tickets.
Please note:
You can buy your bus pass online via School Gateway. If you require a pass for the beginning of the Autumn Term, please purchase a ticket by Thursday 22nd August at 4pm. All tickets will be posted on Friday 23rd August ready for your child beginning school on Thursday 29th August.
If you don't manage to buy in time – don't panic! Please pay via School Gateway and contact

[email protected]

on Tuesday 27th August. You will be able to collect your ticket(s) from John Ferneley.
Once we have started the new term and you wish to purchase further tickets, please note that you must purchase your ticket 48 hours in advance of needing a new ticket – so always keep topped up! Our administration team will deliver the ticket(s) directly to children once we start back at school.
Students will be issued a ticket that will have numbers on – a number will be stamped each journey.
Please keep tickets safe as we are unable to replace them if they are lost.
Spaces for this service are limited. Once we reach the maximum number of students who have bought tickets for Zone 1 and Zone 2, we will only be able to sell more when a student no longer requires this service.